Tammy Baker Named September Community Hero of the Month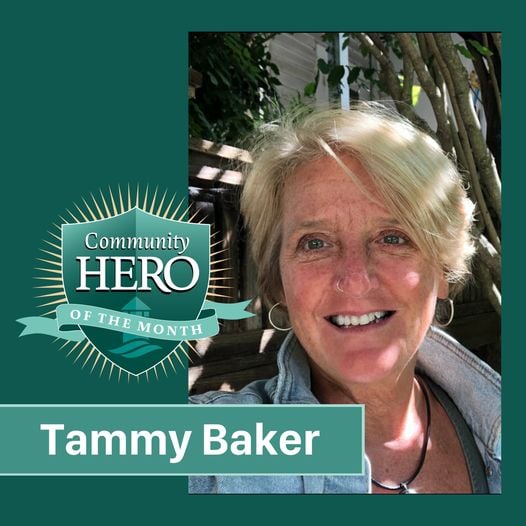 Congratulation to our Community Hero of the Month,⁠ Tammy Baker!
⁠
In partnership with the Tompkins Chamber, we have named Tammy Baker the September Community Hero of the Month for her work with the Community Outreach Worker Program. This award recognizes individuals from Tompkins County who have significantly impacted our community.
The Community Outreach Worker Program connects those in need with appropriate services and is a collaboration of the City of Ithaca, Tompkins County, Downtown Ithaca Alliance, and Family & Children's Services. The program aims to support an inclusive and welcoming downtown community by engaging people with a kind attitude, which is often needed to de-escalate potential conflicts. The program also serves as a model for reimagining public safety in the Ithaca and Tompkins County community, helping individuals who are facing housing insecurity, substance abuse problems, and mental health issues, rather than pushing them into the criminal justice system. Working directly with the Ithaca Police Department and area social service agencies, the Community Outreach Worker Program reduces the burden on law enforcement and provides critical support to Tompkins County's many social service organizations.
Along with her dedicated team, Baker has provided on the street emergency assistance and support in and around the greater downtown area, keeping hundreds of individuals out of the criminal justice system, leading to the de-escalation of potentially dangerous situations, and resulting in hundreds of critical referrals to community agencies.
Tompkins Trust Company President and CEO, Greg Hartz, stated, "We are pleased to acknowledge Tammy Baker's efforts which have made Ithaca and Tompkins County a healthier and safer place to live and work by connecting members of our community with the care and services they need."
"For over six years, Tammy Baker has been a fixture in downtown Ithaca, helping connect those in need to appropriate services as an alternative to more punitive measures," said Jennifer Tavares, Chamber President. "Each year Tammy and her program serve hundreds of individuals, helping manage thousands of interactions and responses - improving outcomes for our community and its residents."
To show the community's appreciation for her work, Baker will be awarded a Community Hero of the Month plaque as well as a gift card for
Downtown Ithaca
from Tompkins Trust Company.