Karen Powers Named October 2022 Community Hero of the Month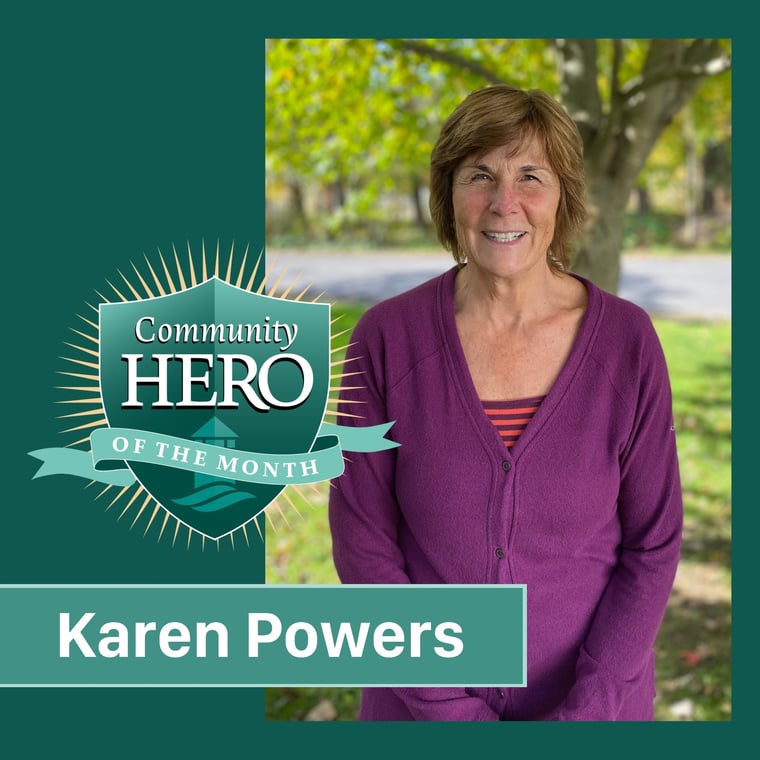 Karen Powers Named the October Community Hero of the Month
In partnership with the Tompkins Chamber, we have named retired school teacher Karen Powers the October Community Hero of the Month, for her extensive volunteerism especially within the Trumansburg community. The Community Hero of the Month Award recognizes individuals from Tompkins County who have significantly impacted our community.
Powers, a former school teacher, has served the Trumansburg community in many ways, notably as the organizer of Takin' Care of T'burg since 2012. Takin' Care of T'burg is a group of volunteers who work to beautify Trumansburg by maintaining flower planters and municipal garden beds in the village's downtown, as well as ensuring the Children's Village is clean and in good repair.
Powers also serves as chairperson of Trumansburg's Gemm Shop, which is a volunteer run nonprofit organization and thrift store that sells donated and consigned items including clothing, shoes, jewelry, domestic goods, books and much more. Money raised by the Gemm Shop is donated back into the community, supporting local events, organizations and area schools.
Additionally, Powers serves on the Trumansburg Street Tree Advisory Committee, the Trumansburg Events & Tourism Committee, and the Trumansburg Area Chamber of Commerce Board of Directors.
Although the award recognizes Powers' work, she would like to bring attention to the many other volunteers who also help make the village of Trumansburg a positive place to live and work. "I am truly honored to receive this award, but would like to add that Trumansburg is very much a giving-back community. I am one of many people who give back and many of them do so under the radar. There are so many people doing positive things for our community."
Tompkins Trust Company President and CEO Greg Hartz stated, "Tompkins Trust Company is pleased to recognize Karen Powers' extraordinary contributions to Trumansburg and the wider Tompkins County community as a whole."
Tompkins County Chamber of Commerce President Jennifer Tavares said, "Karen is the epitome of a dedicated community leader who quietly rolls up her sleeves and does the hard work of creating community and beautifying spaces to improve the quality of life for area residents. Her impacts are felt throughout Trumansburg in so many ways."
To show the community's appreciation for her work, Powers will be awarded a Community Hero of the Month plaque as well as a gift card for Downtown Ithaca from Tompkins Trust Company.